GREAT BEACHES IN ALENTEJO – Discover Alentejo Beaches
Best for children, Vila Nova de Milfontes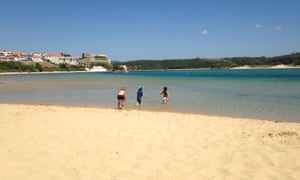 The shallow, child-friendly waters of Farol Beach. Photograph: Isabel Choat
Most of the beaches along Portugal's west coast are pounded relentlessly by Atlantic Ocean waves and the Altentejo is no exception. Few are safe for children to swim from, so the gently sloping sands of Farol beach, protected from the rollers by a headland, are perfect for families.
There's a restaurant right on the beach, so parents of older kids could feasibly sit on the terrace with a beer as their children paddle in the shallows. At low tide, kids can also busy themselves searching for crabs under the rocks.
Best for drinks with a view, Odeceixe
The broad expanse of Odeceixe Beach which has a river running across it. Photograph: Valter Jacinto/Getty Images/Flickr Open
Odeceixe beach is breathtaking: a broad expanse of sand with a shallow river running through it (ideal for young children). The cherry on top of this natural gorgeousness is Bar da Praia, a tiny space with just three or four tables inside, and benches outside for taking in the view. It's laid-back enough for you to rock up with sandy feet, sophisticated enough to serve good Portuguese wines in decent-size glasses and high-quality Spanish tapas. The cool soundtrack, the easy charm of the Spanish owners, the gobsmacking view… I didn't want to leave. Next door, if you want something more substantial, is a more traditional restaurant and bar, with the same stonking view and a more extensive menu, including €4.50 burgers, plates of prawns, and pork chops with chips.
Best for rockpooling, Almograve
Every child loves rockpooling, and at low tide Almograve is a great place for hunting down crabs, shrimp and small fish in the many pools. You'll need to stay with younger children and keep a keen eye on older ones – the waves here are rough – but it's a great spot to while away a couple of hours with a bucket and a net.
Best for isolation Carvalhal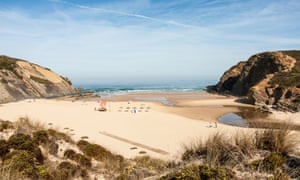 Carvalhal beach is reached by dirt track from Zambujeira do Mar. Photograph: Henrique Feliciano Photography/Getty Images/Flickr Open
In July and August, Alteirinhos is the beach of choice for holidaying Lisboans, who prefer its slightly more isolated location over the busier beach at Zambujeira. It's great if you want to feel part of the short-lived summer buzz. But if you want peace and quiet, even in the height of summer, try Carvalhal, an idyllic cove that is rarely crowded. There are no restaurants or kiosks at either beach so remember to take food and water with you.
[Source: https://www.theguardian.com/travel/2014/jul/12/-sp-portugal-alentejo-region-europe-finest-beaches]